Turtle Bay Newcastle has dished up a revamped menu that's more of a social affair, thanks to its new approach to Caribbean tapas style dining. Firm favourites are still on there, but the menu taps into emerging dining trends and lifestyle habits, with lighter 'grazing' options, plus more vegan and vegetarian dishes.
New to Turtle Bay? The restaurant, which opened on Newgate Street in Newcastle three years ago, is all about those Caribbean beach shack vibes, with authentic tropical flavours and ingredients paired with some of the best rum-based cocktails in the city. (Check out our rum tasting experience earlier this year.)
It's got a feel-good, laid-back setting that's popular among foodies, or works as a drinking destination for top 2-4-1 cocktails during its epically long happy hours. The good news is that the drinks menu has also seen a refresh, with new Beach Shooters and Rum n Tonics – yes, it's time to re-think your mixer of choice and ditch the standard ginger beer, coke or Ting!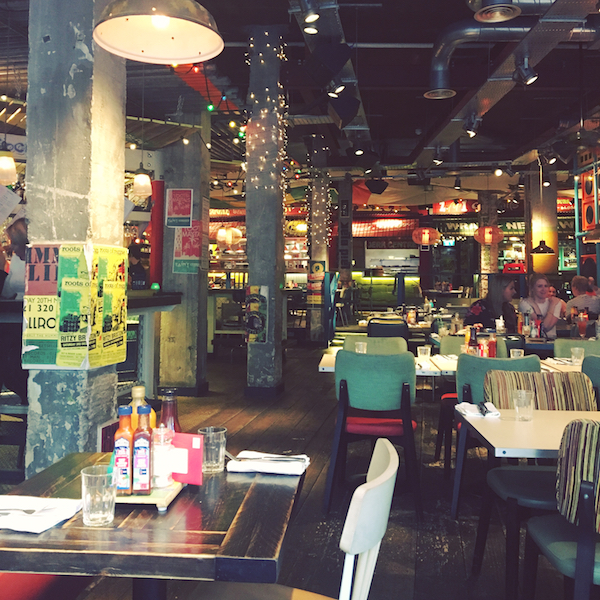 On the menu
The menu is now brimming with small plates and sides, serving up a more informal dining experience.
Its new Lunch n Later selection is exactly that – perfect for lunchtime grazing or a quick bite to eat in the evening; think flatbreads, toasted wraps and burgers.
We plumped for the latter. The Hot Chick'in Burger (£6.50) comprised a generous portion of panko crumbed chicken fillet with juicy pineapple, mature cheddar, gem lettuce and tomato, as well as jerk mayo and hot sauce. It was tasty, but a little underwhelming on the flavour front – I was expecting a bit more of a kick from the sauce.
Across the table, my friend tucked into the Shack Stack Burger (£8)  – a succulent beef burger paired with jerk pork belly, topped with mature cheddar cheese, lettuce, tomato and a jerk bbq sauce. She loved the combination, especially the tang from the bbq sauce, but thought that the pork belly strip could have been crispier.
It's worth mentioning that there's a host of other dishes to look out for too, including new One Pot curries – chickpea and callaloo, and king prawns now make an appearance – and baby back pork ribs under the signature Jerk-it section. (Top tip – just look out for the little sunrise symbol highlighting all the new additions to the menu.)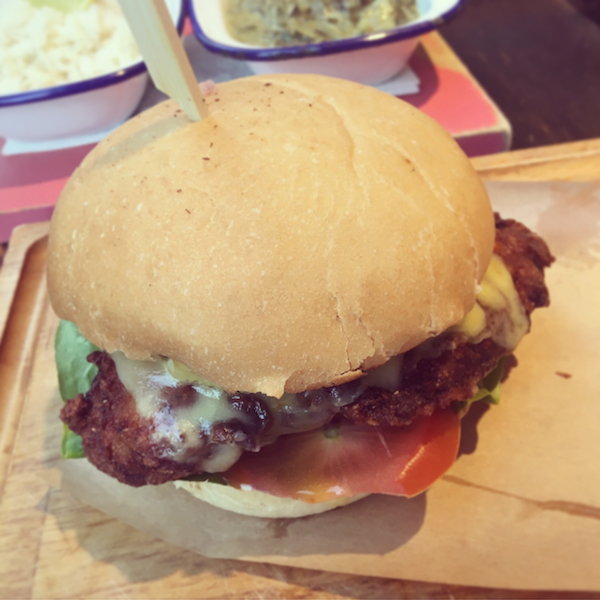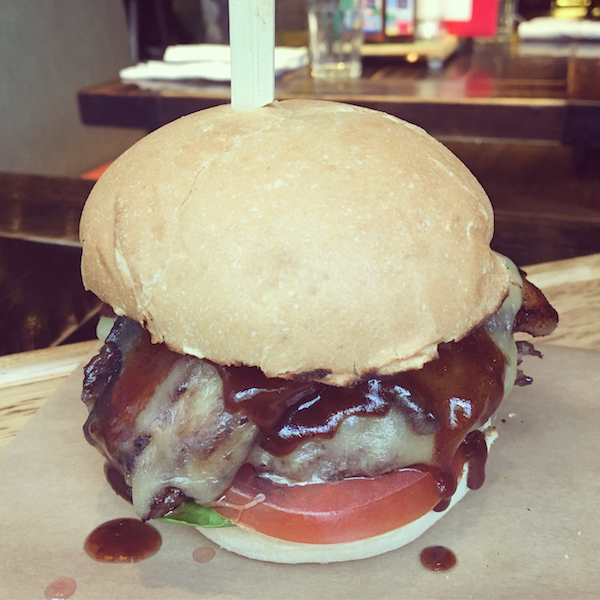 Side plates
The restaurant's diverse selection of side plates are perfect for mixing and matching with your dining chum – cue those all-new Turtle Bay tapas style feels.
Our favourites included the lemony rice (fluffy and as fragrant as you'd expect) and the dirty curry fries (in a word: moreish). They come as two for £5.40, three for £8, four for £10 or five for £12, so all in all, pretty reasonably priced and a great excuse to create a mini feast and try some new flavour combinations.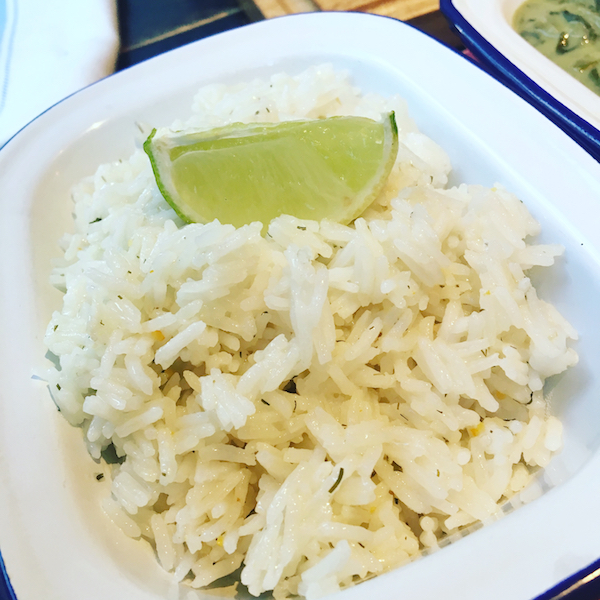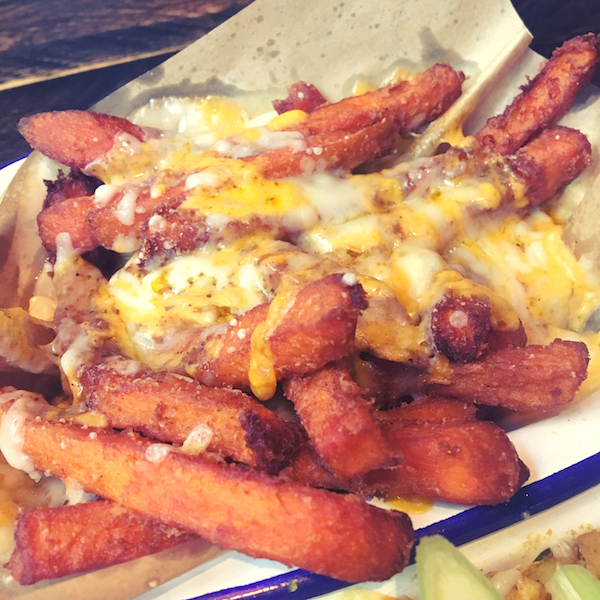 Pudding perfection
The puddings at Turtle Bay are always a highlight. The new salted caramel brownie (£5.30) with light chocolate ice cream was divine – a perfectly gooey chunk of goodness and not overly sweet either.
My friend, meanwhile, indulged in the Caymanas upside down rum cake (£5.30) – a mellow sponge bathed in punchy rum, served with rum caramel and smooth vanilla ice cream. If you like your rum, then it goes without saying that this one's a must!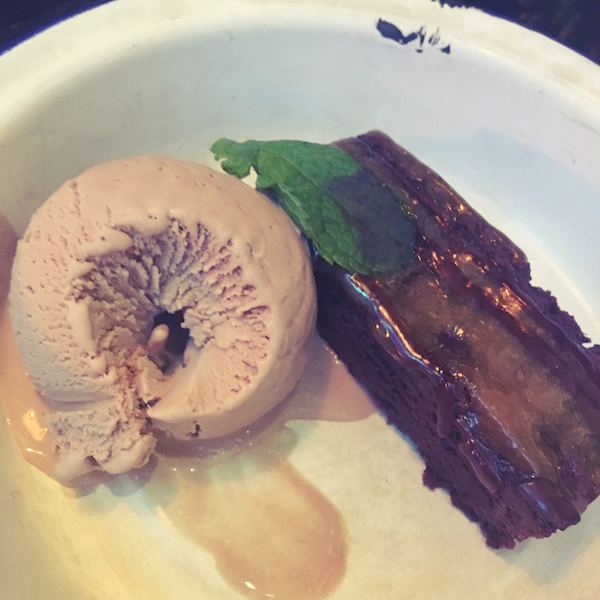 The verdict…
The new menu at Turtle Bay showcases a vibrant mix of ingredients and flavours, and the new tapas style options will be sure to appeal to even more foodies. And this can only be a good thing, as everyone should get a taste for those Caribbean vibes!
With so many side dishes on offer – you can really mix up your meal and experiment with different combinations on each visit to keep things interesting for your tastebuds. So…if you haven't been to the restaurant in a while, we think it's definitely time for a return visit!
For more information about Turtle Bay Newcastle, visit www.turtlebay.co.uk.
*Food and drinks were complimentary for this review.