Trueskin recently invited me along to try out one of their treatments, and as I hadn't pampered myself in a while, I thought I'd take them up on their offer.
As a medispa and advanced skin treatment clinic, Trueskin can help with problems like acne, sun damage and age spots, but it also offers regular treatments such as facials, peels, spray tanning and waxing. It's also perfectly located in the heart of Fenwick's beauty hall.
The consultation…
On arrival, my therapist Cherry carried out a consultation, asking me about my current skincare regime, the products I use and also my general health and wellbeing.
She then used advanced skin imaging technology to analyse my skin. This sounds quite hi-tech, but basically, it involves having a photo taken of your face. The machine detects pigmentation, pore size, sebum levels and those dreaded wrinkles.
In the photo below, you can see my face as it appears normally on the left, and to the right – how the machine sees it. (Not one for the family photo album!)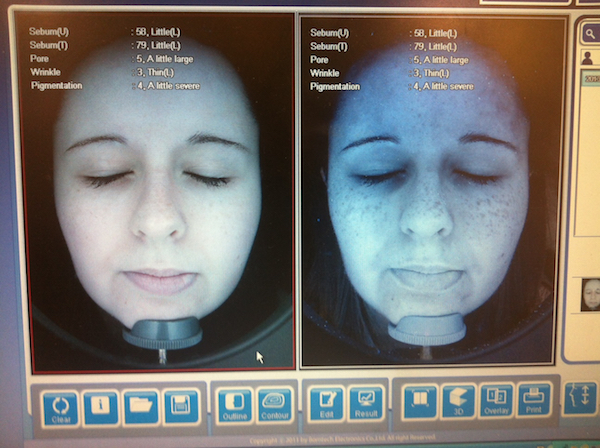 Based on all of this information, Cherry was then able to recommend a suitable treatment, as well as skincare solutions I could carry out at home.
The verdict
On the whole, my skin is in good condition for my age. (Sigh of relief!)
Minimal pigmentation could be seen on parts of my face that usually catch the sun (notably my forehead was pretty clear thanks to my fringe) and Cherry emphasised the importance of using a day cream with SPF, particularly one that includes zinc and titanium. (Luckily, my Lancôme Beauty Balm has SPF 15.)
As for my pore size, this was a little large, and apparently linked to the fact I don't exfoliate as often as I should. With dead skin cells lying on the surface, my moisturiser isn't as effective as it should be, quite simply because it can't hydrate my skin properly, leading to 'thirsty' larger pores.
Treatment-wise, Cherry suggested the microdermabrasion, which I had heard of before but didn't really know much about…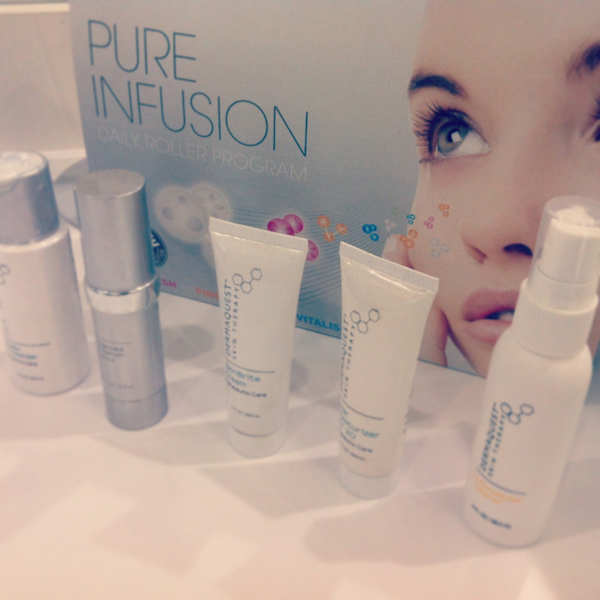 Microdermabrasion
So what is it? Microdermabrasion is a deep exfoliating treatment that polishes the skin. Diamond tipped wands buff away the surface layer, stimulating collagen production and leading to the growth of new skin cells.
The treatment itself wasn't sore at all, but I was aware of the crystals moving across my skin which, combined with the suction of the wand, felt tingly. My cheeks also felt flushed, as though I had just been for a quick run around the block! It was also fairly quick.
Cherry was fabulous – she was very reassuring, explaining each step of the process.
Afterwards, my skin felt instantly smoother, and the only sign that I'd just been for a treatment was the fact that I had no make-up on.
Later in the evening I noticed very thin scratch-like lines across my face but these were gone by the following morning.
Long-lasting results?
Since having the microdermabrasion done, my skin has felt much smoother and softer, and underlying bumps on my chin have since disappeared. My nose has also remained clear and free from blackheads.
As suggested by Cherry, I'm making a conscious effort to exfoliate on a fortnightly basis to keep my complexion clear and as youthful as a late 20-something's should be!
If you'd like to find out more about Trueskin visit the website at: www.trueskin.co.uk
SaveSaveSaveSave