There's no escaping vintage fashion.
Even if you've never experienced the nostalgic charm of a vintage fair or rustled through the rails of a kitsch pop up boutique, chances are, there's something retro hanging in your wardrobe this very second. That's because fashion is cyclical; borrowing and stealing from trends of yesteryear and periodically giving these popular styles an all-new modern day twist.
If your high street hauls don't quite cut it though, then we think you're going to love Trendlistr – a vintage fashion platform founded by Newcastle University graduate, Louisa Rogers that specialises in curated, trend-led vintage clothing.
The new venture, which launched only last year, also upcycles vintage garments and fabrics into desirable items that promote sustainability for the fashion-conscious, digital generation.
We recently caught up with Louisa to find out more about her website and chat all things vintage – with a sneak peek at the top trends to look out for this year and ideas on how you can mix and match your vintage finds with high-street staples for an Insta-worthy street style look…
First things first…why did you launch Trendlistr?
I set it up because I felt that whilst there has been a boom in vintage clothing shops online, many of them weren't hand-selecting their clothing to make sure their collections were cohesive and attractive for savvy consumers. Vintage remains quite a niche, and people often don't realise how versatile it can be.
So, how did you get into the vintage fashion scene?
I started off sourcing preloved designer clothing to sell online, and buying vintage to wear personally. I loved how each unique item had previous lives and how daring some of the prints and colour combinations were. When I realised there was a strong American market for this sort of vintage, I decided to expand my e-commerce operations to include retro fashion – and the rest is, as they say, history!
How do you curate content for the site?
There are two levels to the curation for Trendlistr. I make sure that items on the site, whether from our in-house collection or submitted by other vendors, are in good overall condition and authentic vintage.
Secondly, I like there to be an element of relevance with current trends. For example, Prince of Wales check is all over the high street right now, so if we can source some vintage items in this print we stand to tempt people who may not normally consider buying vintage.
Referencing current trends with our collection allows us to challenge the common perception of vintage – as fusty, unchanging, and frozen in time.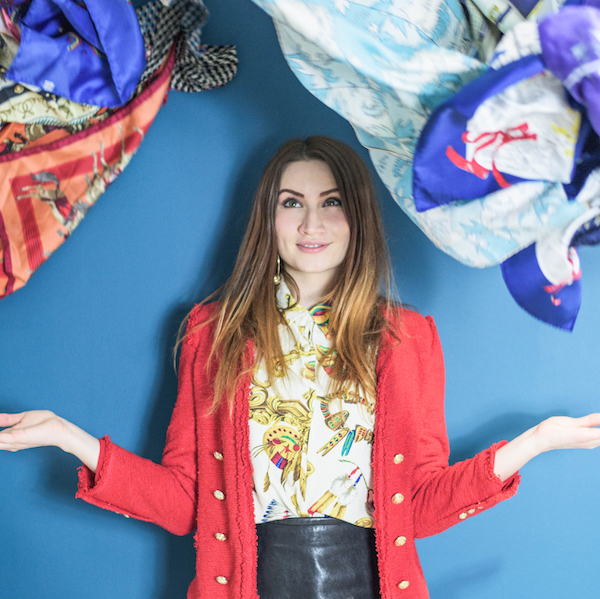 What sets Trendlistr apart from other vintage clothing platforms?
Trendlistr is not a platform that is relying on volume, and that gives us the advantage of favouring quality over quantity.
Other platforms are driving down prices, but we are more invested in supporting the vintage community of sellers whilst introducing buyers to an exciting world of fashion, self-expression and meaningful purchasing.
Describe the typical Trendlistr shopper…
We have a whole range of customers – but our 'typical' buyer tends to be between 25-30, working in the creative industries, and a real fashion devotee. They love unusual and rare items, favouring fun prints and bright colours over more traditional outfits.
With sites like ASOS and Boohoo leading the way with their affordable, fast fashion online – where do you see vintage fashion sitting within this mix?
ASOS and Boohoo will always have their place, but they will never be able to cater to those people who want something more than just 'today's hot trend'. Fast fashion is fun but, today, people are starting to reassess why they buy what. People want meaningful connections to their clothing, they want to treasure what they spend their hard-earned money on, and thanks to social media – they want to set themselves aside from the crowd, rather than dressing to blend in.
Vintage and our In-House collections – that are inspired or upcycled from vintage – offer something unusual in the general fashion marketplace and that's our strength.
What would you say to critics who claim that vintage clothing is itself just a fad?
Vintage clothing spans from the 1920s to the early 1990s. Some limited runs of designer clothing are even considered vintage from the early 2000s (Thierry Mugler, for example). Because it encapsulates so many diverse trends under one banner, there are always elements of vintage that are making their way down the catwalks.
Fashion is a cycle, and so everything that is on trend at the moment is merely an iteration of something that has come before it.
How has pop culture influenced vintage clothing in recent years?
Celebrities like Alexa Chung and Fearne Cotton have popularised the idea of vintage style and wearing vintage for day-to-day outfits. Their effortless mixing and matching made people realise how accessible and easy to wear vintage can be.
Fashion influencers such as Tavi Gevinson and Susi Bubble who were amongst the first online bloggers perpetuated the importance of individualism and creativity in clothing that lends itself to altering and recontextualising vintage for today's wear!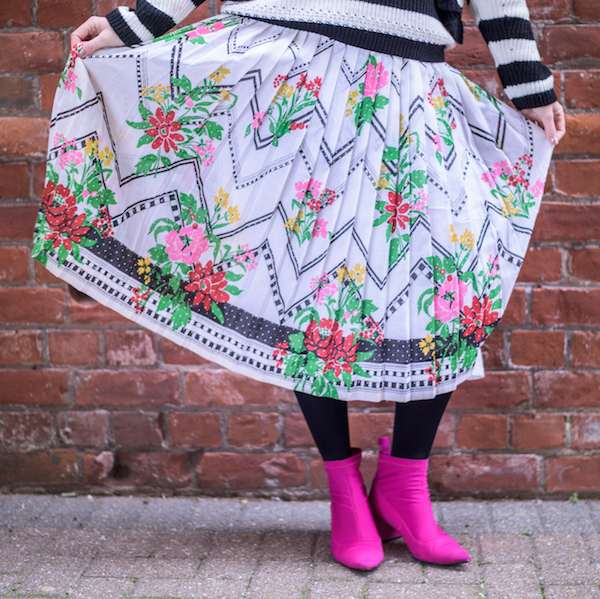 What role do sustainability and ethics play within the vintage fashion world?
Vintage is, at its core, sustainable. This doesn't mean that it's exempt from the same problems as the rest of the fashion world. Textile waste is still an issue, particularly with items that are badly damaged.
We wanted to examine how we could stop these stunning garments from going to waste when they were no longer wearable, which spawned our Upcycled collections.
One of the biggest ethical dilemmas we face is vintage fur: does selling it advocate for and promote the use of real fur? In my opinion, no. Vintage fur was used at a time when synthetic alternatives were not available. I don't support today's fashion companies using fur but I don't feel that reappropriating vintage fur items is a bad thing – after all, these would be sent to the landfill if we aren't going to wear them.
What are your top vintage fashion trend predictions for 2018?
2018 is going to be a fun year for fashion. Doom and gloom in politics often results in novelty and vibrancy in the fashion world – and this seems set to continue.
1980s velvet will be around for the second half of the year, in rich jewel-toned colours.
1950s-1960s floral prints that are delicate and colourful will make an appearance during the warmer months and be paired with corduroy and autumnal denim separates.
Statement belts – which were everywhere in the late 1980s and early 1990s – are also set for a comeback – big, metallic buckles over a classical day dress will be a great way to blend two eras
Are there vintage gems worth investing in?
So many! Certain designers will hold their value almost indefinitely: Chanel, Hermes, Pucci, Leonard Paris.
In terms of specific garments, I think everyone should have an elegant vintage coat (they were made to last, and made to be extremely warm so they're both practical and pretty).
A vintage day dress (midi length, with a button-down front) is an item that will take you from work to cocktail do effortlessly.
Finally, having some fun vintage costume jewellery is a great way to update your outfits without breaking the bank. I personally hoard chunky chandelier earrings which I can add to any outfit to make it party-ready!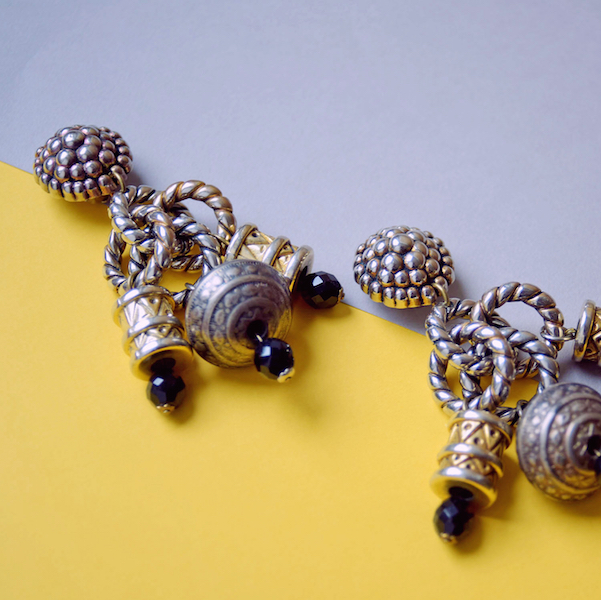 Your top tips for carrying off a retro inspired look?
Don't assume you have to stick to a period. Wearing everything 1950s can look dated – instead, blend vintage with modern to create a look that is entirely new!
Pair a floaty dress with a puffy jacket and chunky heels for the ultimate street style look.
Tuck a slogan t-shirt into a sleek vintage pencil skirt – classy meets casual!
The trend for Chinoiserie and metallic embroidery looks fantastic with simple velvet separates – shop 1980s and 1990s 'grunge' style items and pair them with the classically elegant motifs to create something that's wearable for your everyday.
And your favourite vintage fashion find ever?
I found a Leonard Paris leopard print midi dress at a sale held at Northumbria University – Leonard is a very rare designer to come across and it cost me all of £10!
If you'd like to find out more Louisa's vintage fashion website, visit trendlistr.com or follow Trendlistr on Twitter or Instagram.
Images: Marion Botella Photography
SaveSaveSaveSave
SaveSave
SaveSave
SaveSave