I was feeling nostalgic as I walked through the doors of The Brandling Arms in Gosforth earlier this week. I lived and worked in this suburb several years ago and the high-street was my former stomping ground, as the saying goes.
The Brandling Arms still has bundles of charm, boasting a kitsch, vintage inspired interior. Floral printed benches, mismatched sofas, small twinkling chandeliers and exposed brickwork behind the bar are just a few of the stand-out features. Pictures of ales and tankards can be found on the teal painted walls, meanwhile clashing tropical prints can be found in the cosy snug.
As for the outdoors garden area, this looks completely different – it's now raised and fully decked, complete with benched seating and large umbrellas; perfect for the last days of summer.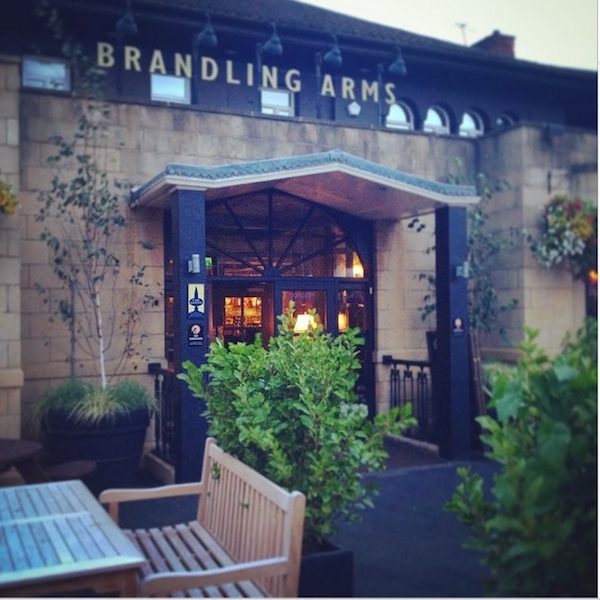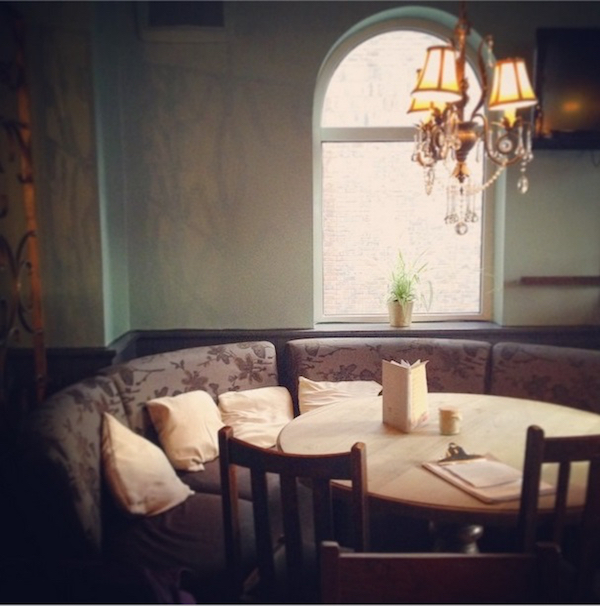 I'd only ever eaten lunch at The Brandling Arms, so I was eager to try out its evening menu for the first time. The mains on offer include Pork & Chorizo Burger, Chicken, Leek and Ham Hock Pie, Southern Fried Chicken, 21 Day Aged Rib-eye Steak and Salmon Fish Cakes.
Keeping it simple, I ordered Fish and Chips. The crispy batter was golden with flecks of tarragon throughout and it boasted a distinctive taste thanks to another key ingredient – cider. The chunky cut chips ranked high on the crunch-ometer, having been double cooked. A dollop of vibrant green mushy peas and tartare sauce rounded off my delicious plate of food.
Across the table my boyfriend tucked into his Cherry Orchard Sausages and Beer Mustard Mash. The thick sausages were well-cooked, meaty (no grisly bits) and just generally very tasty, brimming in homely goodness. The beer mustard gave the smooth mash an understated oomph on the flavour front and this was balanced rather well against the rich yet sweet red wine gravy. Needless to say, my boyfriend licked his plate clean.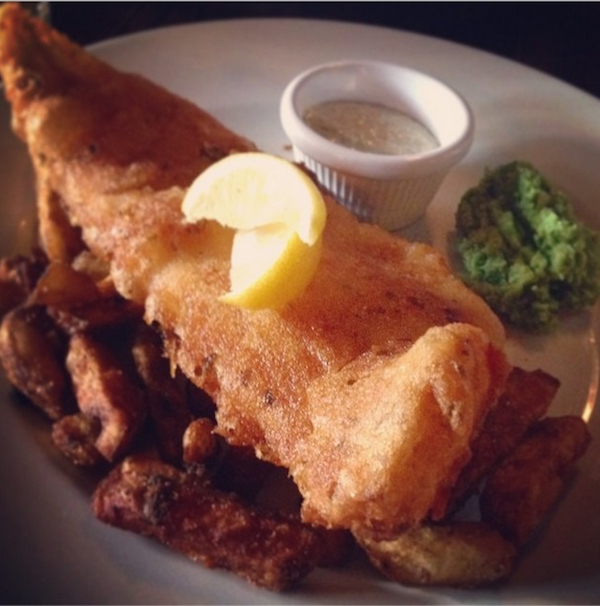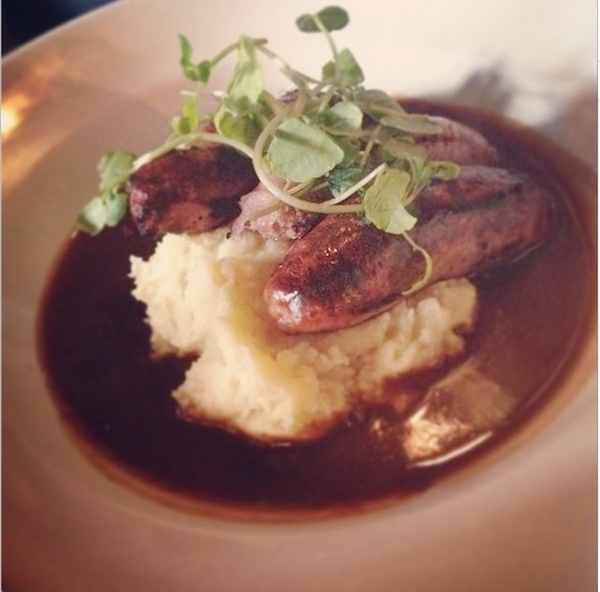 Having spied some desserts on a nearby table, we thought it would be rude not to try something from the pub's scrumptious selection, which includes Salted Caramel and Chocolate Tart, Sipsmith Sloe Gin Eton Mess, Dark Chocolate Brownie and, of course, the traditional Cheese Board.
My Sticky Toffee Pudding was, however, disappointing. The sponge was dry and stuck onto the plate, and there was nowhere near enough toffee sauce. The vanilla ice-cream was pleasant enough, but overall the dessert lacked the delish factor.
As for my boyfriend's deconstructed Raspberry and Peach Crumble with Apple Sorbet, this was bursting in summery flavours and he was thoroughly enjoying this, until that is, he chewed on a small piece of plastic. The staff member serving us apologised for this, surmising that the plastic had come from a container in the kitchen. It was a real shame, as the dish had tasted fine otherwise.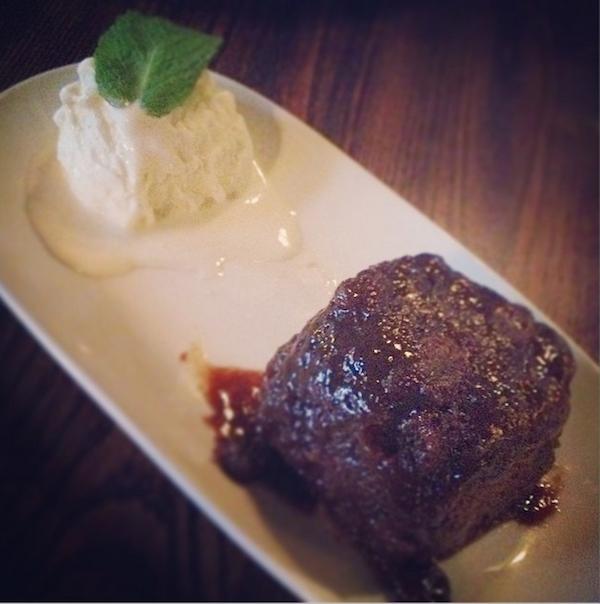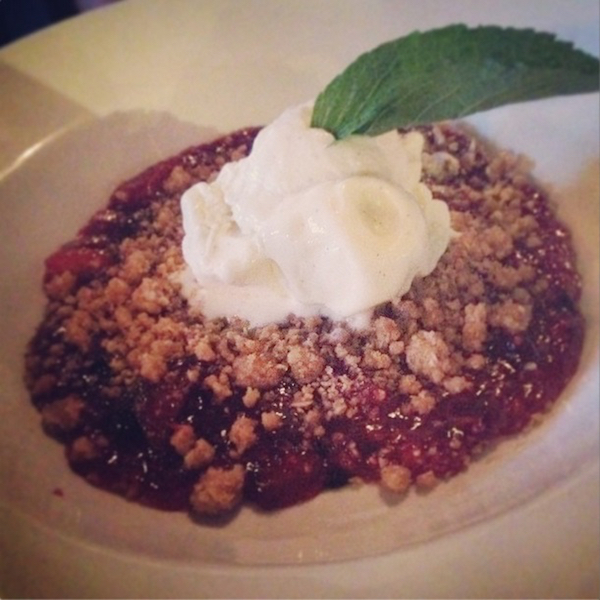 For us, The Brandling Arms served up a dining experience that was a mixture of highs and lows. The décor and ambience were both top notch, and we couldn't fault our main dishes, but it appears something had gone amiss in the kitchen by the time we ordered our puddings, which I guess was just plain unlucky.
For more information about The Brandling Arms, visit www.thebrandlingarmsgosforth.co.uk.
*Newcastle Sparkles was invited along to try the menu at The Brandling Arms Gosforth on a complimentary basis