If you've been reading Newcastle Sparkles for a while, you'll know that I have a love-hate relationship with exercise. Dancing, step aerobics, burlex, badminton, running…I've given all of these a try, but something I've never tried before is yoga.
When I heard that Hotpod Yoga was coming to Newcastle for the day as part of a UK-wide tour, I thought it was the perfect opportunity to give this innovative concept a try…
What is Hotpod Yoga?
Quite simply, Hotpod Yoga is a yoga class that takes place inside a portable inflatable pod heated to a temperature of 37 degrees.
The classes are based on classic Vinyasa-flow yoga, designed to stretch out and strengthen the body, while calming the overactive mind.
The portable studios are already available in locations such as Notting Hill and Cardiff, as well as some far-flung destinations in South Africa, the Netherlands and Portugal. And a few weeks ago, it landed here in Newcastle to give yoga newbies and experts alike the chance to try it out for free.
A multi-sensory approach
Inside, the studio is dark with halos of purple lighting subtly illuminating the edges of the pod. It's a tranquil environment that's surprisingly spacious, comfortably fitting in three rows of yoga-goers.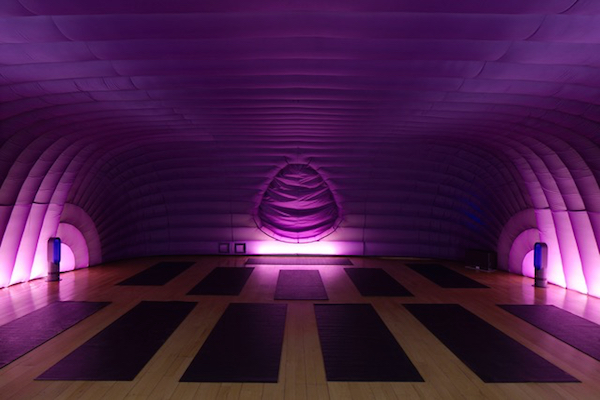 This dark, warm cocoon works on a number of levels, as Nick Higgins, co-founder of Hotpod Yoga explains: "Heat warms the muscles aiding flexibility and helping even the stiffest bodies ease into the class while also working your heart harder, adding cardio benefits. So, combine this with the benefits that normal yoga already gives to both your mind and body and you have a somewhat super-charged version of an already incredibly potent and beneficial practice."
Personally, I liked the fact that this portable studio was dimly lit inside. As someone lacking in confidence when it comes to exercise (yes, I'm that girl who always hides in the back row), I felt less self-conscious compared to usual. The pod also locked out my surroundings, which meant I could focus on the class, distraction-free.
"It's a really immersive space that shuts off the outside world using a multi-sensory approach – dim lights, down tempo tunes and a soothing scent," says Nick.
The one-hour class I attended in Newcastle city centre was led by Nick, who trained as a yoga teacher at leading studio Yoga Haven in Morocco and Clapham.
After allowing our senses to adjust to the calming ambience, Nick briefly outlined the workout that lay ahead and promised that we would all feel "lush" by the end of the class.
The poses started out relatively easy with slow, fluid transitions between the different moves. But gradually, this picked up pace and I began to sweat a lot – and this is one of the many benefits associated with Hotpod Yoga.
"The heart and lungs works harder, pumping more blood round the body," Nick explains. "Combined with the relaxing atmosphere of the pod; a purifying sweat helps to ensure maximum benefit from all your efforts."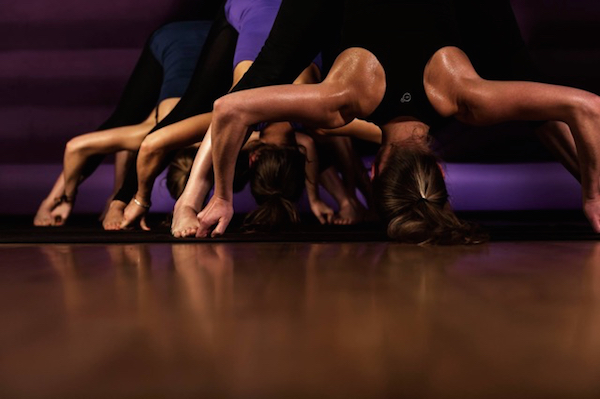 We soon shifted onto some floor-based work focusing on our core – concentrating on our breathing throughout – before ending the class with a few blissful minutes of lying still on our yoga mat with our eyes shut.
Stepping out of the lusciously warm pod, I felt as though I had just awoken from an energising sleep. I was refreshed and a little flushed, and my hands and arms felt like jelly (an indication of how weak I am!). Later that day I could really begin to feel the effects on my shoulders and thighs, too.
The other attendees I chatted to afterwards (who were by definition 'yoga pros') were all extremely complimentary of the session and the fully immersive experience offered by the pod.
Franchise opportunities
Nick and his co-founder Max Henderson are looking to franchise the model so that it can get to more places and appeal to more people, which means their inflatable studios could be returning to Newcastle in the near future.
"It's portable – put it anywhere and get the same great experience," Nick enthuses. "That means yoga doesn't have to be limited to a few fancy studios in big cities."
For yoga beginners much like myself, Nick's top tip is to just give it a go and enjoy it. "Don't let yourself get caught up in what your body should look like in a certain pose," he says, "just breathe, enjoy the deep stretches and being immersed in the pod!"
For more information about Hotpod Yoga, visit hotpodyoga.com/uk/
Featured image: Ed Reeve