Similar to the nearby Bar Luga and the Living Room – Browns offers a sophisticated backdrop for diners and drinkers. Mahogany tables are set off nicely against its blue and cream colour scheme, creating a cosy, laidback ambience with a touch of class. And then there's the piano, adding a serene soundtrack to proceedings.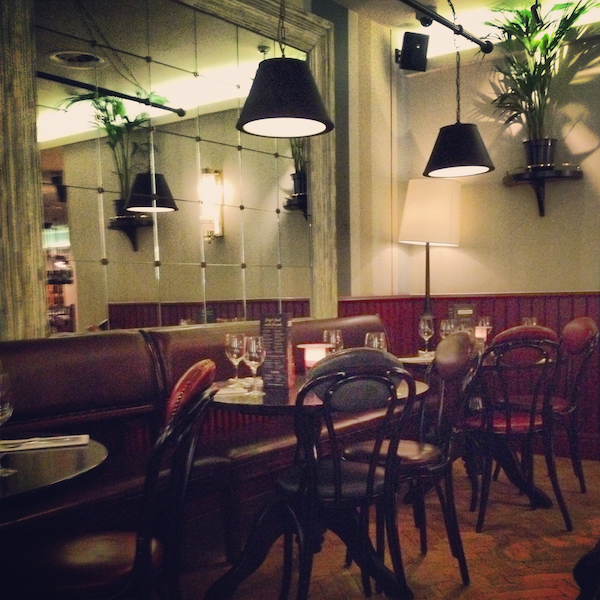 I ventured along one Thursday after work with my sister, ready to sample its evening menu for the first time. The menu offers a broad mix of dishes, with some 'tried and tested' favourites and a few original creations thrown in for good measure, too. The starter selection includes roasted goat's cheese, pressed duck and parsley terrine and rannoch smoked venison. As for the mains, you'll find the likes of steak pie, belly of pork, shoulder of lamb, burgers and salmon fishcakes.
It was lobster night – I've seen many a Browns lobster on my social media feeds, so I thought it would be rude not to try this speciality.
Having never had lobster before (only crab when it comes to the crustacean variety) I decided to go for the Lobster Thermidor – half a lobster served with new potatoes and a colourful bowl of salad.
Admittedly, it was quite a fiddly dish to eat, which my sister had pre-warned me about. The meat had a soft, delicate texture and tasted milder than what I was expecting. I was pleasantly surprised to say the least, although I would probably go for the full lobster next time so that I had a more satisfying portion of meat to tuck in to! I wasn't keen on the accompanying cheese based sauce which was too strong for my personal liking.
My sister, meanwhile, plumped for the rump steak, served with chips and peppercorn sauce. She described the beef as succulent and not too fatty round the edges and, for her, the portion size was spot on.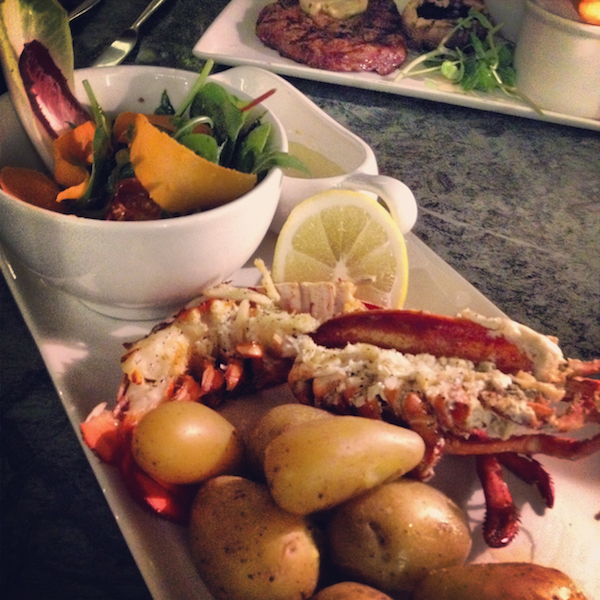 Next up – Puddings and Aftertails! If a traditional dessert doesn't take your fancy – we're talking sticky toffee pudding, eton mess and trio of crème brulee – then the Browns Aftertails are worth a look. These dessert-in-a-glass cocktails rank high on the indulgence scale, with ingredients such as Frangelico, crème de cacao and mint – the After Dinner Browns and After Seven Mojito sounded particularly lovely.
But it was the Browns Brownies that proved tempting for us – the white chocolate and raspberry blondie stole the show for me; a luscious, soft brownie oozing flavour. The soft strawberry ice-cream finished this off perfectly. My sister's dark chocolate brownie – despite looking rich – was delicious and not overly chocolaty.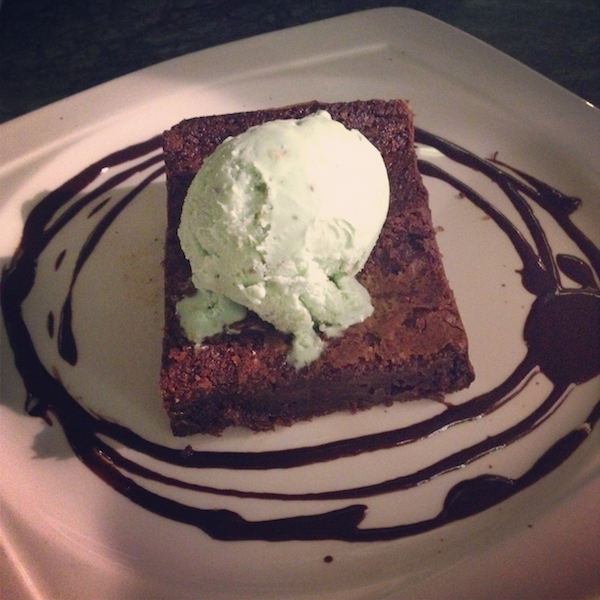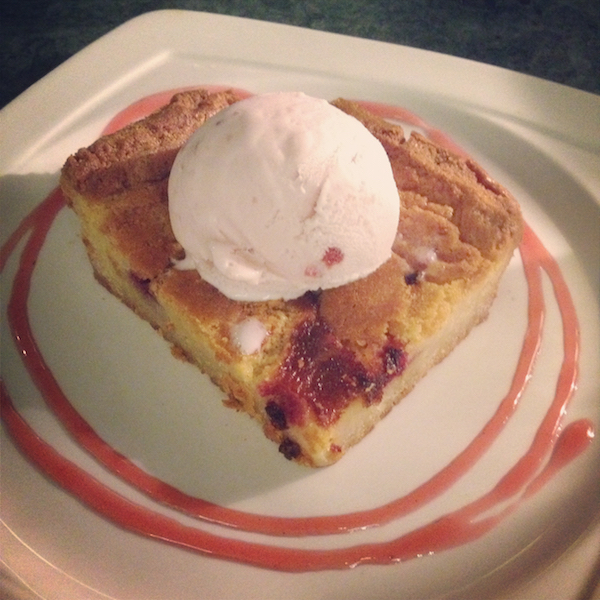 To sum up – our experience ticked all the boxes and a special mention goes to our friendly waiter Praveen. But with such strong competitors literally a stone's throw away, Browns needs to keep up the good work to stay on top of its game. It's currently focusing on breakfasts, perfect for you lucky people who work in the city centre, with two breakfasts priced at £9.
SaveSaveSaveSave