Can you tell me about your background and how the idea for Rockholly came about?
I studied for a degree in Fashion Marketing at Northumbria University. After designing for a few years, I took a job with an outdoor performance brand and discovered it was an area of design I really enjoyed.
I love the outdoors anyway, but found technical design to be really challenging, particularly thinking of design solutions to ensure the garment is functional and fit for purpose, as opposed to just looking nice.
More recently I designed womenswear for Berghaus in Sunderland, which was a great experience. They are top of the game in terms of technical performance, so I learnt a great deal about fabrics such as Goretex, waterproof construction and working with factories overseas.
I started to notice that a lot of brands weren't really addressing the needs of women. It's quite a male driven industry and women's products are often a bit of an afterthought. There's a bit of a shrink it and pink it mentality. I really thought there was a gap in the market for women's waterproof coats that were 100% waterproof and breathable, but also stylish enough to wear everyday. Something you would be happy to wear on the commute to work, on the school run, or at weekends.
I had the idea for Rockholly quite a few years ago, but I have three young daughters so it didn't feel like the right time to start when they were really small. So, a year ago when my youngest started nursery, I started speaking to manufacturers and was lucky enough to find a brilliant organisation that were willing to work with a start up brand.
Where did your love for fashion first begin?
From a young age I loved to draw. I grew up with two sisters and we would spend hours drawing and designing on the 'fashion wheel' (a 1980's classic!). I loved art at school and always knew I wanted to study fashion, so began my degree straight after A-levels.
Where did the inspiration for your SS18 collection come from?
I am influenced by modern design, so my jackets are always simple, pared back and timeless. I love Scandinavian style, which is always beautiful but functional. Colour and fabric wise, I am inspired by the natural environment, from the beautiful North East coastline to the Northumberland park.
Can you tell me more about the fabrics you use?
I use performance fabrics that are matt (non shiny) and have a natural hand feel. Rockholly fabrics have a membrane backer, so are 100% waterproof and breathable; the same level of performance you would find from any 'outdoor' brand. Jackets are seam sealed and use PFC free waterproof coatings, which are less harmful to the environment.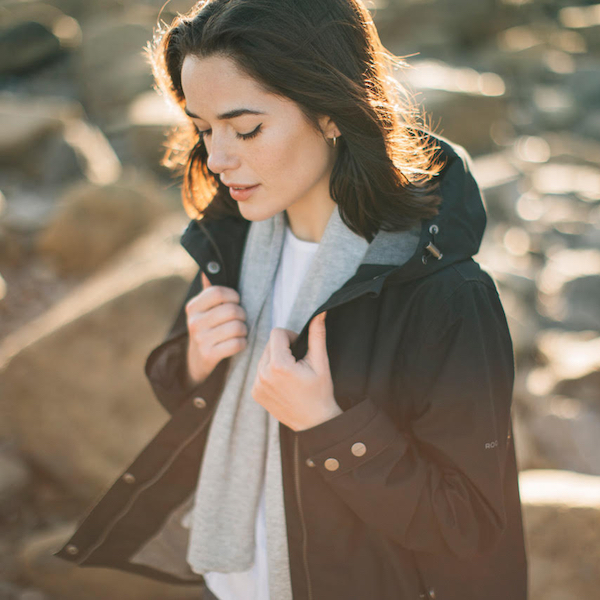 As an outdoors clothing brand – what role do wider environmental and sustainability issues play within your business?
It is massively important to us that we consider the environment at every step. We use PFC free coatings and are looking at recycled fabrics for AW18. Our packaging is all recycled/recyclable. We are a small business and don't have all of the answers, but we are always looking for ways we can improve how we do things.
Who is the typical Rockholly customer?
Women who loves being outside and have an appreciation for good timeless design.
What's your style philosophy?
Our style is simple and timeless. We have designed our jackets to be high quality, versatile & functional. They are not fast fashion. I would describe Rockholly as slow fashion! We want our customers to be able to hold onto our jackets for years to come.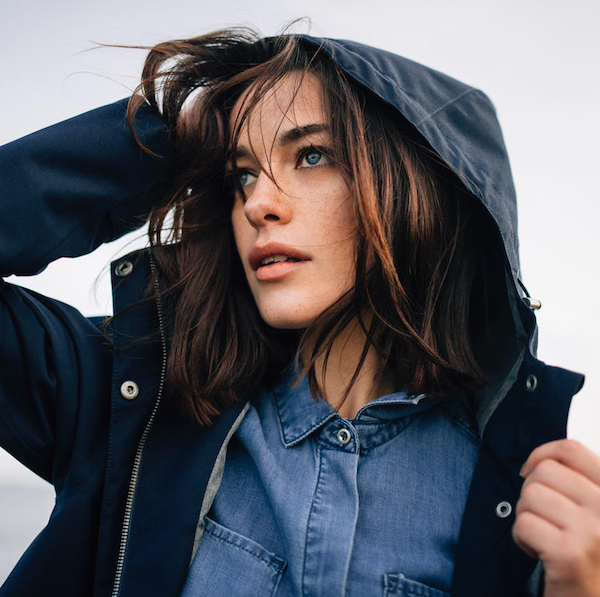 Who's your style muse?
Alexa Chung always looks effortless and I love the tomboyish edge to what she wears. Design wise I love Margaret Howell. Her clothes are always understated and classic.
Do you have any exciting plans for upcoming Rockholly collections?
Yes. I am planning on expanding the current range and am looking to introduce some new styles for winter. I am also in talks with retailers. I am really exited about the future.
---
To shop the new collection at Rockholly, visit rockholly.com. You can also follow the brand on Instagram @RockhollyClothing
Images: Rockholly