City centre bar Revolution has launched its brand new kitchen menu, developed by executive chef, Mark Rush and his culinary team. With an Americana twist, the new menu has a decent variety of dishes on offer, with highlights including the chicken katsu, Bourbon Bad Boy Burger, Sloppy Joe pizza, bbq pulled pork burrito and classic steak sandwich.
According to Mark "these days it's all about sharing your food, getting your hands dirty and having a good time" and the menu certainly accommodates feasting and sharing, featuring a range of 'small plates' where you can choose any three for £13. Chicken and sweetcorn chowder, crispy goat's cheese bon bons and garlic flatbread are just a few of the dishes available.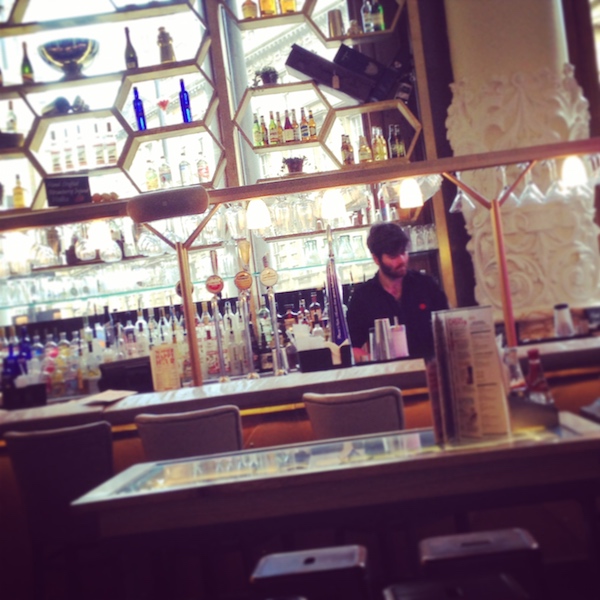 I decided to keep it simple though by ordering the fried chicken wrap – strips of fried panko coated chicken with baby gem lettuce and chipotle mayonnaise, served with skinny fries. The breadcrumb was crunchy (not always a given – I've had my fair share of soggy coatings in the past) but the real star of this dish was the mayo which is by definition, very moreish.
Meanwhile, the beau – always one for a bit of spice and all that – opted for The Hot One; a stonebaked pizza topped with spicy pork n'duja, hot Roquito peppers, mozzarella and parmesan cheese. I felt a little envious when this arrived – my wrap seemed a little lost on the table next to his huge pizza. The base was super thin and crispy; so 'in vogue' on the pizza scene at the moment and the toppings were also pretty generous. The ingredients delivered on the spice barometer, too, my boyfriend assured me.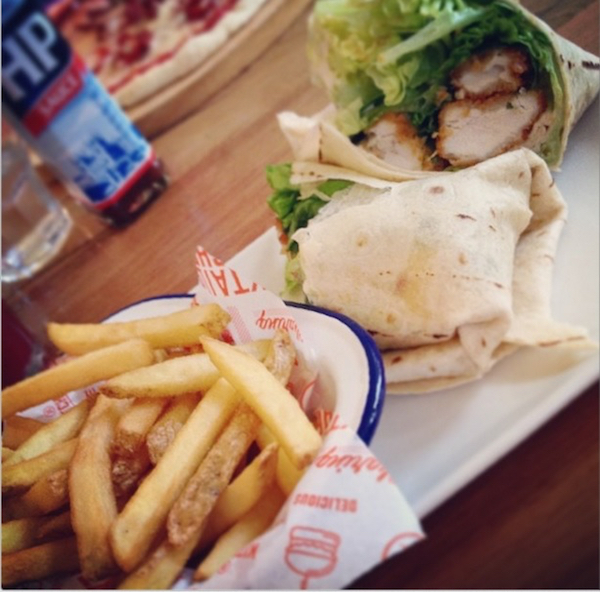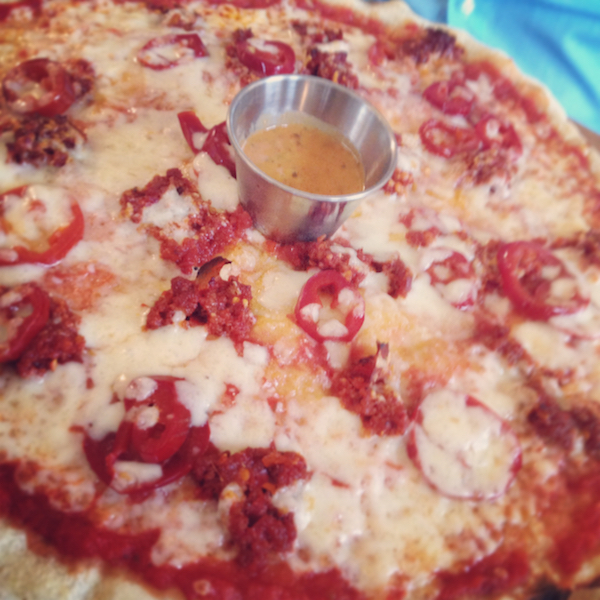 I always like to reserve some space for dessert and tonight was no different. Mousse shots, which add a culinary twist to the bar's famous vodka shots, sounded very tempting – white chocolate mojito, chocolate and strawberry, and chocolate and blueberry are the three flavour combinations on offer. Other desserts available include the salted caramel chocolate fondue and chocolate mess sundae.
But it was the chocolate and blueberry fluffwich that won me over, not only because of its dreamy name, but because every staff member's face seemed to light up at the mere mention of the fluffwich, so I just had to give it a try.
This dessert has to be one of the most indulgent I've ever eaten, comprising dough, sandwiched together with chocolate and melted, gooey marshmallow all encased in a sweet batter and served with blueberry sauce on the side. It was scrumptious, but note to self and others – this is definitely one for sharing!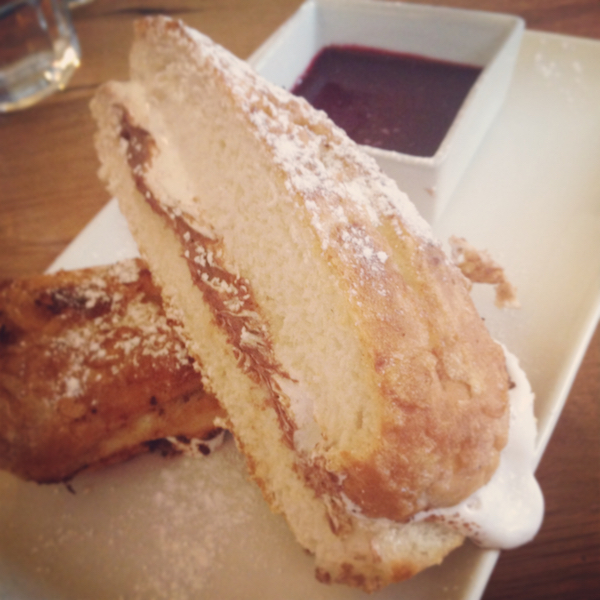 It would seem that Revolution has upped its game when it comes to its food offering; it's not just relying on its reputation for flavoured vodkas and cocktails, and this reflects a wider shift in the city, too, as we're becoming a demanding bunch when it comes to our cuisine. Coupled with the grandeur of its setting, which we're all familiar with by now, it's definitely worth a look-in if you're in town and looking to satisfy your rumbling tummy.
For more information about Revolution visit www.revolution-bars.co.uk/bar/newcastle-upon-tyne/
* Newcastle Sparkles was invited along to sample the new kitchen menu