| ADVERTORIAL |
Can you tell us a little about yourself and Jewellery Sparkles?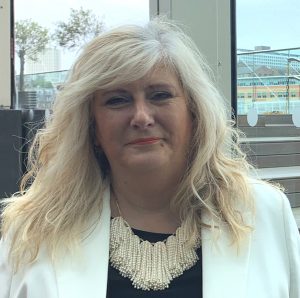 I am the owner of Jewellery Sparkles Ltd, a Park Lane Jewelry franchise, and I am based in the North East of England.
My career prior to this venture was steeped in marketing and teaching, but something inside me always knew I wanted to work with pretty things that make people feel good.
Having struggled with personal self confidence, I am passionate about helping women to feel their best.
As women we tend to put the needs of others first and as an empty nester I now feel its time for 'me' and so encourage other women at whatever age, stage or size to update their personal style, upcycle a wardrobe of lovely clothes or accessorise special occasion outfits – all through the power of jewellery.
Tell us more about the jewellery collection.
The jewellery range truly has something for everyone. There are key items for men as well as women and for many tastes, covering a whole range of price points from exceptionally affordable to serious treats!
There's necklaces, bracelets, earrings, and rings, whatever your style, from calm and classy, or sparkly, eye catching and frivolous, boho chic casual to full on glam! Even the style icon Lulu Guinness loved one of the pearl necklaces (our Darby Necklace pictured below) I was wearing at an event so much that I had to just send her one!
The jewellery on offer all has one thing in common, its sheer quality. In fact it comes with an unconditional guarantee.
There is a range of metals, stones, crystals (some Swarovzki), fabrics and finishes. Fashion-forward, unique and lovingly produced, many of the unique creations are inspired by world-renowned designers.
What are the most popular jewellery trends at the moment?
As we move into winter, bright colours and chunky textures are very popular.
Rose gold made a big bang around three years ago and continues to be highly sought after. Earrings are getting bigger and longer, bracelets are very in vogue and the more layered the better. Necklaces are proving popular in both the long styles and the relaxed choker style.
The biggest trend at the moment is that people are definitely responding to not following the crowd and to loving their own identity and style!
What's your top style pick for the party season?
My biggest recommendation is to embrace the party season and bling. When else can we get away with really layering up the jewels and feeling fabulous? No one can go wrong with the little black dress, and they are really a great canvas for showcasing sparkle.
My favourite 'bling' items from this year's collection is the gorgeous sparkly Hotmess statement necklace (below) and Mischa bee necklace.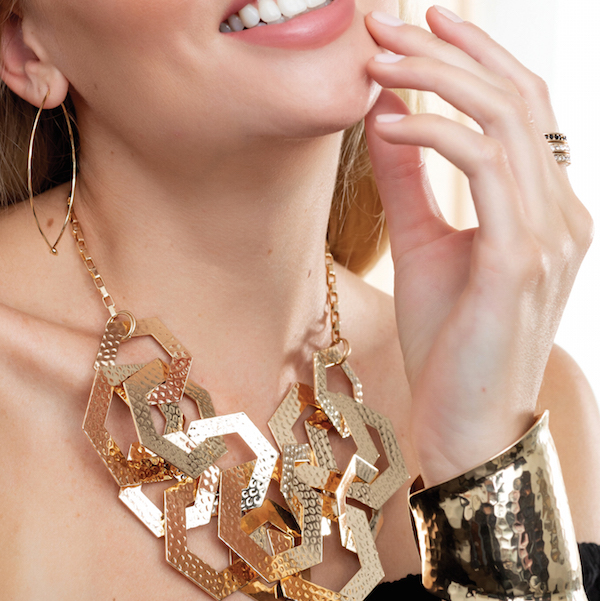 What's your advice for choosing jewellery for a loved one?
My top tip for buying a gift is to choose from your heart. Pick what you would love to see them in. Close your eyes and imagine them wearing it. Then when you present the gift, write on the gift tag why you chose it so they know the thought went into it. Something like, "I chose this gift for you because it will go perfectly with your favourite dress".
If you are a man buying a gift for a woman your reason can be more romantic! Even if the item isn't what they would have chosen themselves, you are guaranteed they will love it because of the thought!
What's the jewellery equivalent to the Little Black Dress?
Many of my repeat order customers are becoming well known for their show stopping earrings. They really are in vogue at the moment and a good pair of statement earrings can set any outfit alight. They can take an outfit from day to night, which is important at this time of year for after work events and drinks, and they also look fabulous on photographs and selfies.
What do you love most about working with jewellery?
The sheer delight of my customers when they choose and receive their items. It is infectious. There is something about treating yourself or buying a gift that lights us up from the inside.
I also love that a good piece of jewellery can boost confidence, and can alter an outfit to be really personal. I guess in a nutshell, jewellery and its affects, on us equals a real sense of feeling good!
For more information about Jewellery Sparkles, visit jewellerysparklesltd.co.uk.