Meet Deb and Betty – an independent design duo based in Byker. The pair work from their garden shed studio, upcycling vintage finds and creating their very own unique pieces for the home, including handmade linen cushion covers, bunting, bags and garlands.
Tell me about Hilburyhouse Design – how did the duo come about?
The duo grew out of a friendship based on drinking tea, banter and a love of art. As (very!) ex art students, we were interested in each other's paintings and started drawing and making at the kitchen table. We discovered a shared aesthetic and a desire to make beautiful work. Following careers in Nursing (Betty) and Lecturing (Deb), having kids etc, we both wanted to live a more creative life, thus Hilburyhouse design was born.
Tell me more about your designs. What items can we find in your collection?
Our designs suggest faded elegance and feature artful deconstruction. We love an exposed hem, visible stitching, frayed edges and painterly marks. We enjoy simple, understated design in a restricted palette; natural linen, grey, black, dirty pink.
In our collection you can find handmade linen cushion covers and scarves, hand painted lavender pillows, mini artworks, garlands and bunting, upcycled and vintage finds. Our new range of bunting has been bought for baby showers, camping and festival expeditions.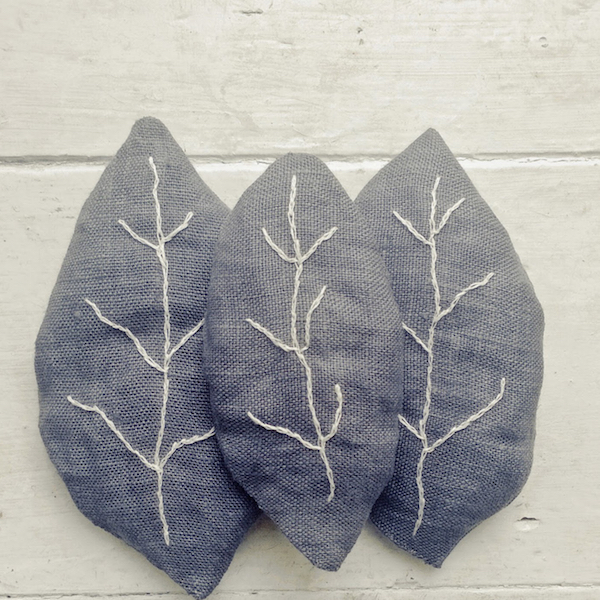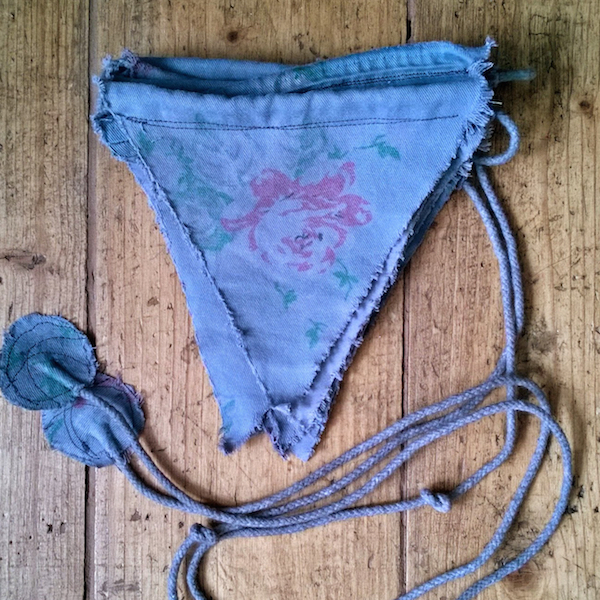 How long does the design process take?
It depends upon the product, some designs take a few weeks to form from the initial idea. At times the design process is more immediate and organic. We have different ways of working, Betty enjoys deliberating over designs, whereby Deb is more spontaneous. We meet somewhere in the middle!
Where do you look to for inspiration for your designs?
Oooo, everywhere! We find inspiration in nature, textiles, the street, fashion, art, interiors. Some sources of inspiration are more definite, our Enso cushion cover is inspired by the Japanese concept of Enso; a circle that is hand-drawn in one or two uninhibited brushstrokes to express a moment when the mind is free to let the body create.
You upcycle and source vintage finds – how do you know if an item has potential to be transformed into something special?
We ask ourselves; can we create something beautiful and interesting by changing the colour, shape or function of the item. We recently found some vintage linen antimacassars that were torn and stained, however had some intricate crochet detail. Deb dyed and reworked the textile to create a beautiful lavender pillow. Likewise, Betty has made vintage tea towel bunting from worn and discarded towels.
We also ask, would we have this in our homes? Some items are so lush, they don't make it to the etsy shop! William Morris had the right idea – "have nothing in your house that you do not know to be useful, or believe to be beautiful".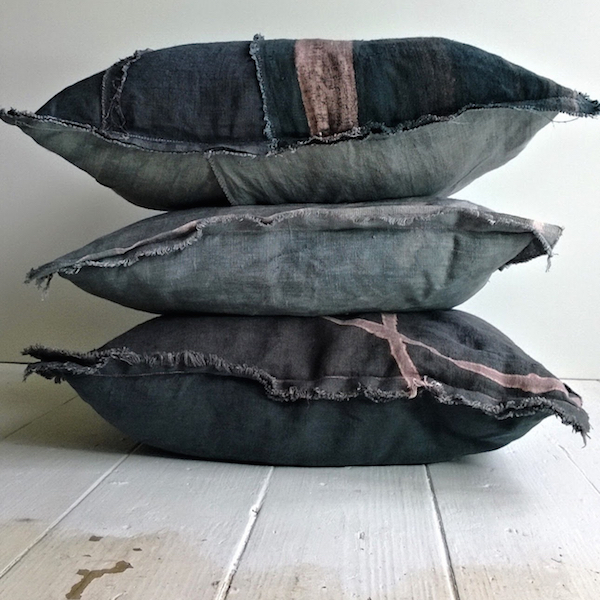 Describe the typical Hilburyhouse Design customer in three words.
International, discerning, self-assured.
What are your ambitions for Hilburyhouse Design in the next 12 months?
Wow, where to begin? Best to give you our TO DO list!
1. Launch our new adventure, Creative Birthday Workshops for kids
2. Develop our blog, hilburyhousedesign.blogspot.com
3. Create a website
4. Evolve and promote our Etsy shop
5. Continue with arts and craft markets
6. Develop our own practice as artists
Alongside your Etsy page, will you be showcasing your items at any upcoming North East events?
We are taking part in the newly established Jesmond Dene Arts and Craft Market that takes place monthly, every second Saturday. The next one is on Saturday, 9 August 2014. Pop down to say hello!
We will be showcasing our Hilbury mini products ready for Christmas, mini bunting, tote bags and hand-painted cat and mini house lavender pillows. Any upcoming events, we post onto our Facebook page, Hilburyhouse Design.
To shop the collection, visit the Hilburyhouse Design Etsy page at www.etsy.com/people/hilburyhousedesign