In the pre-Christmas frenzy, which saw the last few months of 2018 pass by in a hyperlapsed haze, you may have missed a few new additions to Newcastle's drinking and dining scene, which can mean only one thing – you'll have to add them to your 'must-visit' list for 2019 instead!
So in case you missed it…here are five new places in Newcastle worth checking out this New Year – a guaranteed pick-me-up from those lackluster January blues.
Union Rooms
The Union Rooms has been a longstanding favourite with drinkers in Newcastle, occupying a beautiful 19th century building on Westgate Road.
Last November, the pub re-launched with a polished new look and plush décor that, thankfully, retains the charm of the building's original features. There's still a myriad of rooms to explore on both floors (the library being our personal favourite) with a brand new dining space set within a beautiful Garden Room to the rear of the venue, complete with an open pizza oven.
Formerly a Wetherspoons, the bar is now managed by Cyclone Leisure Group, who are also behind San Lorenzo and Blackbird Ponteland. So in other words, expect good food and good drinks to match!
St Vincent
Popular Italian restaurant Caffe Vivo closed its doors towards the end of last year, with Terry Laybourne transforming the Quayside venue into St Vincent – an all-new wine bar concept inspired by the acclaimed chef's favourite neighbourhood bars across Europe.
The focus is very much on the carefully curated wine list which features lesser known varieties and wines from smaller independent makers, mainly from France and Italy.
As for the food – this is available all day, consisting of small plates that perfectly complement the wines on offer. Current highlights on the menu include parmesan custard and anchovy toast, potted salmon with cucumber, croquet madame, duck rillettes, and middle white pork and pistachio terrine.
Pitched as a place to hang out with friends, St Vincent is all about good quality wine and plates of seasonal deliciousness, perfect for sharing. Needless to say, we can't wait to visit!
Cook House
Following a hugely successful Kickstarter campaign, Anna Hedworth's Cook House, which featured on Michel Roux Jr's Hidden Restaurants series, relocated to a brand new home on Foundry Lane in the Ouseburn in December.
The new kitchen is spread over two floors with a café downstairs and a restaurant on the upper level. Along with evening meals, Cook House is also branching out into cookery classes and its very own product range in the coming months. Exciting times!
And if our visit to her original shipping container-based eatery last summer is anything to go by, her gorgeous new space and menu will no doubt be just as – if not more – popular with brunch, lunch and supper club goers alike.
The Muddler
Pan-Asian restaurant The Muddler swung open its doors on Grey Street in December. This is the latest venture from the team behind nearby shipping container development Stack and Hadrian's Tipi, and offers something completely different to these popular hangouts.
A stylish, elegant one-room restaurant – The Muddler promises diners a sumptuous dining experience, boasting a decadent palette of gold and chocolate hues, with gold leaf adorning its intimate alcoves. It's ultra chic and has date night written all over it!
The menu is a creative take on Pan-Asian cuisine, a definite foodie trend at the moment. There's also a unique cocktail list and with creations like the Muddler Spritz and Black and Gold to choose from, the new venue sounds like a tempting destination come pay day this January!
Canaca
Ok so this one isn't 'technically' new, but Canaca, situated off Northumberland Street, has undergone a complete revamp and rebrand, making it deserving of a spot on this list.
The eatery's funky new décor and menu has given this Saville Row café a new lease of life. Run by couple Mark and Somia, the eatery plates up tasty street food from all over the world made from top quality, authentic ingredients. Think noodles, wraps, curries and more. If you like Japanese katsu curry – then we can personally vouch for Canaca's version, which is simply delicious!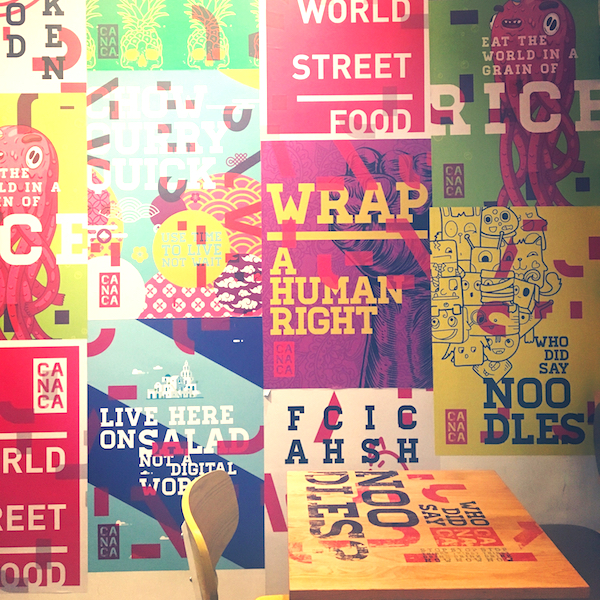 Are there any other new bars and restaurants in Newcastle you'd like to visit? Leave your top finds below!