Located in South Gosforth, The Brandling Villa describes itself as 'an independent craft beer and whisky house'.
Inside, the pub has got a traditional touch to its décor, imitating a cosy, homely atmosphere which is popular on the pub circuit at the moment. Interestingly, you might find yourself in the company of punters of the canine variety as the Brandling Villa is a pooch-friendly establishment, with dog dinners also featuring on its menu.
The burger menu
There are 19 burgers to choose from on its 'Burgers of Destiny' menu, each with its own curious name, taken from all sorts of characters, real and fictitious, from popular culture. To give you a flavour – Diagnosis: Burger, The Rise and Subsequent Falls of Fernando Torres, The Dirty Thoughts of Cheryl Cole, A Night In With Susan Boyle and The Endless Regret of Aled Jones are just a few of the burgers that feature.
Expect a wide range of ingredients to accompany your burger, from pancetta, sauerkraut, potato cake and spicy chorizo to chilli jam, blue cheese or even Northumbrian ham.
You can also 'vegetabulize' your burger – swapping any from the selection listed with a meat-free beet 'n' bean burger instead.
The food
A nod to Breaking Bad – The Revenge of Gus Fring is a hefty breaded chicken burger with lime zest and chilli flakes, homemade salsa and crushed nachos. It's also meant to have fresh leaves, although mine didn't come with any (but no great loss to be honest as the burger was already well stacked with ingredients). The burger was also served with a generous portion of skin-on fries.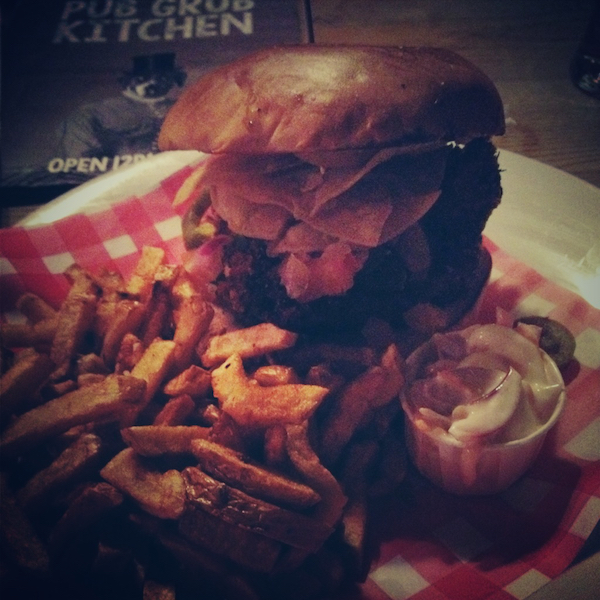 The verdict
The burger was epic. I had to eat it with a fork and knife though as it was impossible to take a reasonable bite into this sizeable creation.
The chicken had a lovely crispy coating, with the salsa mix giving the burger a lip-smacking punch on the flavour front. Perhaps the star additions to this particular burger were the nachos – as expected, they gave some extra crunch to the plate but, combined with the salsa, they catapulted the burger into scrumptious territory.
Needless to say, if burgers are your vice, then the Brandling Villa should definitely be on your hit list.
To find out more about the Brandling Villa, visit www.brandlingvilla.co.uk.
SaveSave