It would be fair to say that we're spoilt for choice when it comes to Italian restaurants in Newcastle. And the opening of intu Eldon Square's new Grey's Quarter brings with it yet another newbie to our local dining scene.
May we present Bella Italia and the chain's first restaurant in Newcastle city centre, joining the ranks of its neighbouring eateries at Silverlink and intuMetrocentre.
A quick flick through the menu and you'll see that Bella Italia prides itself on its close links with family run businesses in Italy. Interestingly, the chain's pasta is sourced from the oldest pasta makers in Italy, with its cured meats originating from two family-run charcuteries. It even has its own blend of olive oil created in Umbria.
So with heaps of authenticity at its heart – how does the food and dining experience fare in practice?
We visited on a Thursday evening, the week it first opened its doors to the public. The restaurant was peppered with a few diners, including a large group sat opposite us, adding to the otherwise hushed ambience. (Something I'm sure will be remedied once all the eateries in the food quarter are finally open and footfall increases.)
First things first, let's talk about the décor. Pretty lampshades, the staple Italian tricolour colours and the restaurant's name quite literally lit up in lights, combine to create a contemporary, vibrant setting.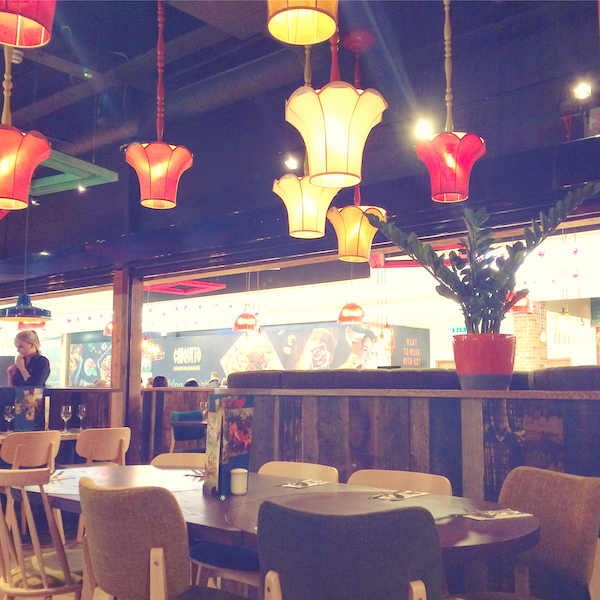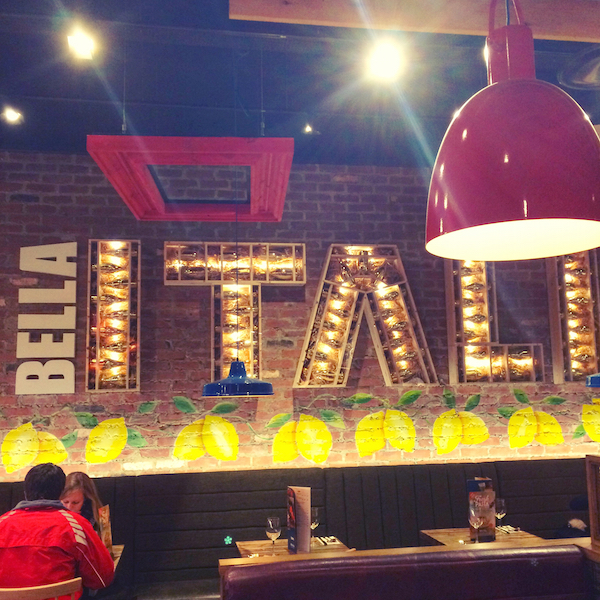 After sipping on a rather holiday-esque Bella Bellini (£6.95) – a fizzy blend of strawberry liquer, Malibu and Da Luca Prosecco – we tucked into pizza bread with mozzarella, garlic butter and caramelised onions (£6.95). This was presented on a wooden board, pre-cut into large slices. It was quite thin with just the right amount of melted cheese and a smattering of onions on top, just the way I like it.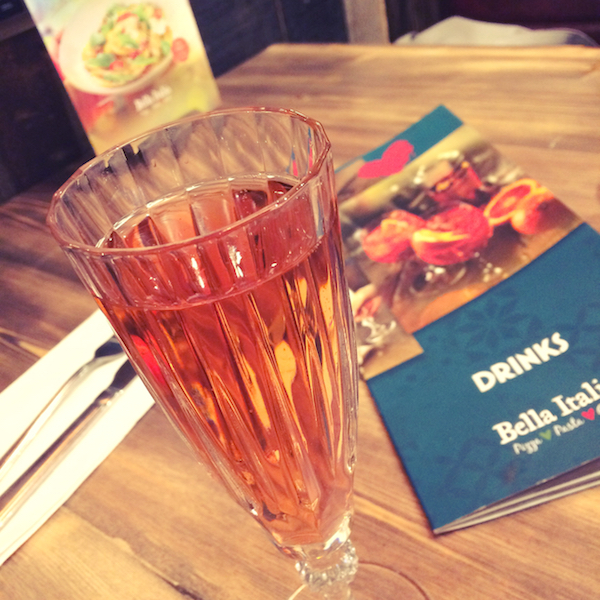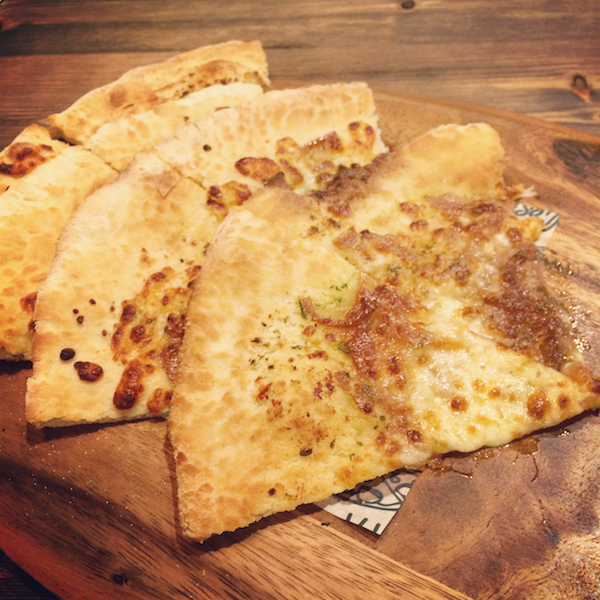 Foodie favourites
If pizza is your vice, then you'll be happy with the selection on offer, including classico and roma pizzas, calzone and pizza vita (pizzas under 500 calories served with a salad).
Other favourites, such as lasagne, sirloin steak, duck Florentine and pork ribs also feature on the menu.
On this occasion, it was the pasta dishes that won us both over. I settled on the Pollo Robiola (£12.95) – pretty sunflower shaped pasta parcels filled with robiola cheese and rocket, served with pieces of chicken and a creamy red pepper sauce. This dish tasted delicious; the cheese was subtle and the pasta was just the right thickness. Personally, I would have liked more sauce though, as this seemed to be lacking.
Across the table, my friend enjoyed a plate of Salmone Limone (£12.25) – a sizeable portion of tagliatelle pasta with delicate pieces of smoked salmon and al dente broccoli, doused in a smooth mascarpone, tarragon and lemon sauce. She said that the flavours and textures worked really well, with the lemon adding a sour zing to the dish.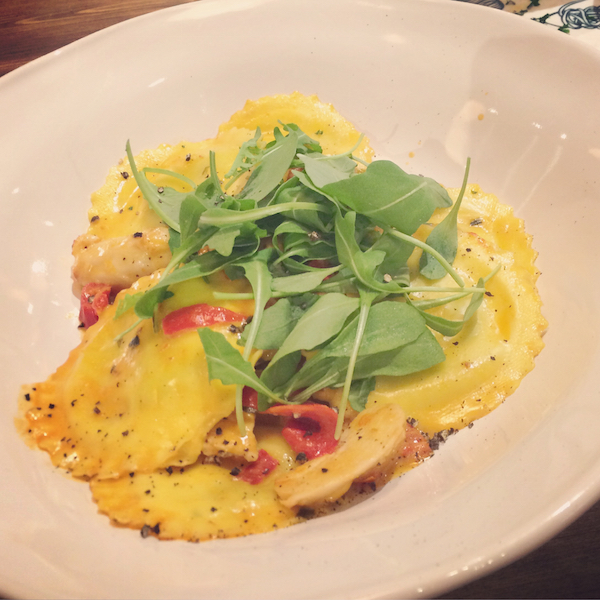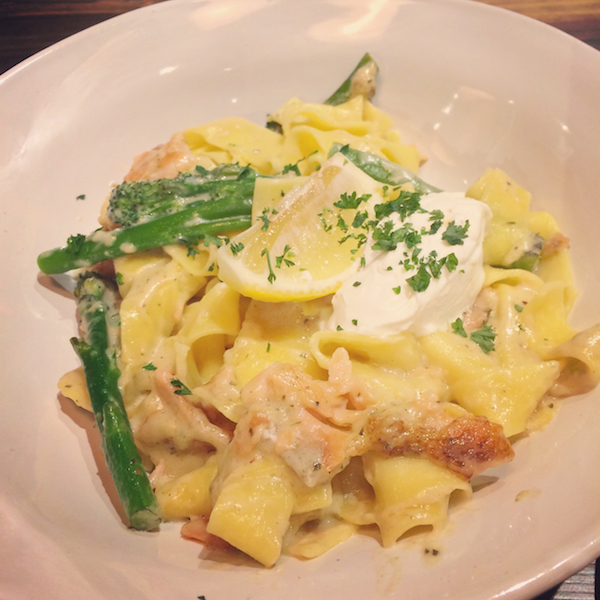 Scrumptious desserts
Come dessert-time, I was intrigued by the concept of a shot glass dessert. There are five mini concoctions to choose from – you can have three of your choice for £5.25 or indulge in all of them for £7.95.
As soon as they were presented on the table, I realised that these weren't your standard sized shot glasses. And I knew that polishing off all three would be a challenge…
The salted caramel chocolate 'shot' was my favourite – a luscious blend of chocolate mousse, a crunchy bourbon biscuit base and a gooey salted caramel topping. The orange cheesecake was a thick mixture with a pungent Cointreau orange sauce (quirkily presented in a pipette); meanwhile the strawberry cannoli dessert consisted of candied fruit and chocolate chips with sweet ricotta, a strawberry coulis and cannoli biscuit.
My friend's Limoncello Meringue Pie (£5.75) was a delightful blend of crispy shortcrust pastry filled with  limoncello custard, topped with meringue and a sprinkling of limoncello sauce. The perfect dessert if you're a fan of all things lemon.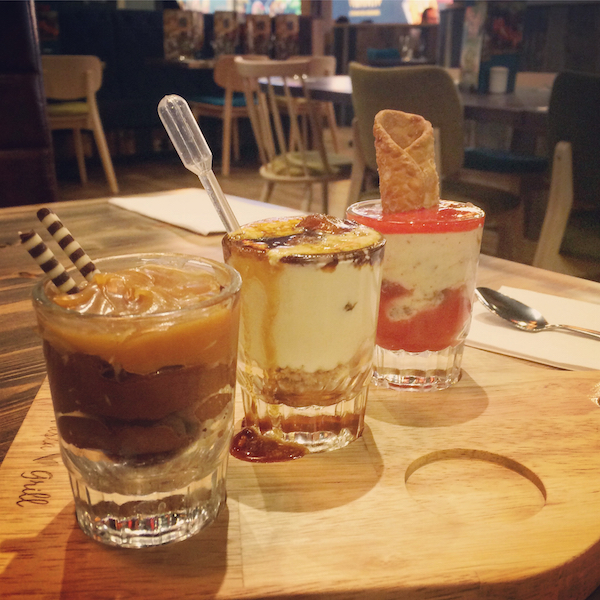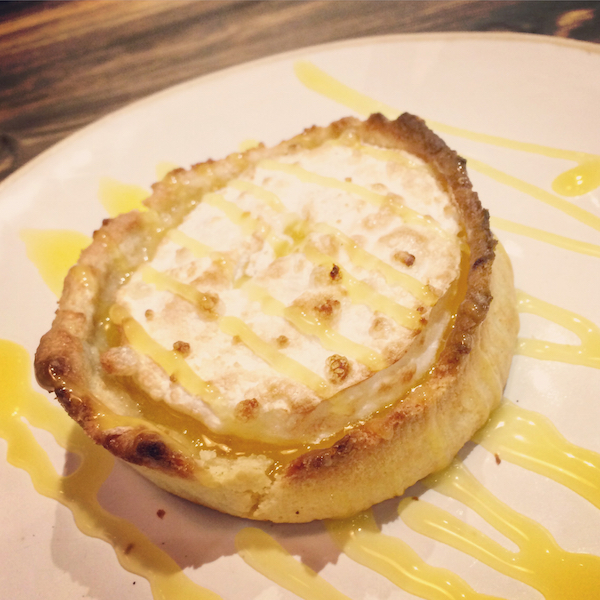 A 'bella' experience?
This was the first time I had dined in a Bella Italia and overall, I really enjoyed my visit.
The food was very tasty and presented nicely, and as Italian restaurants go, there was plenty of choice to appease both pizza and pasta lovers. As for the atmosphere, this was laid-back, and you can't beat the location, which is quite literally in the centre of Newcastle.
Have you been to the new Bella Italia? How do you think it compares to other Italian restaurants in the city?
For more information about Bella Italia, visit www.bellaitalia.co.uk
*Newcastle Sparkles visited Bella Italia on a complimentary basis