Newcastle Sparkles is an online lifestyle magazine and blog featuring news and musings on food and drink, fashion, beauty, culture and everything else in between, with a Newcastle twist – including handpicked highlights from around the North East.
---
The website consists of five lifestyle sections, plus a regular editor's column. We also feature online galleries from events across the region.
Fashionista
From catwalk shows and vintage fairs to the launch of new collections and pop-up shops, this section covers everything fashion and style related
Beauty Belle
The latest goings-on in the beauty world, featuring treatment reviews, new product launches and more
Foodie
News and reviews from the burgeoning food scene in Newcastle and beyond
After Dark
Spotlighting everything nightlife related, including new bar openings and cocktail menus
Social Butterfly
Out and about across the city and region, with a dash of culture thrown into the mix
Editor's Column
Personal ramblings, observations and opinions from the editor
---
About the editor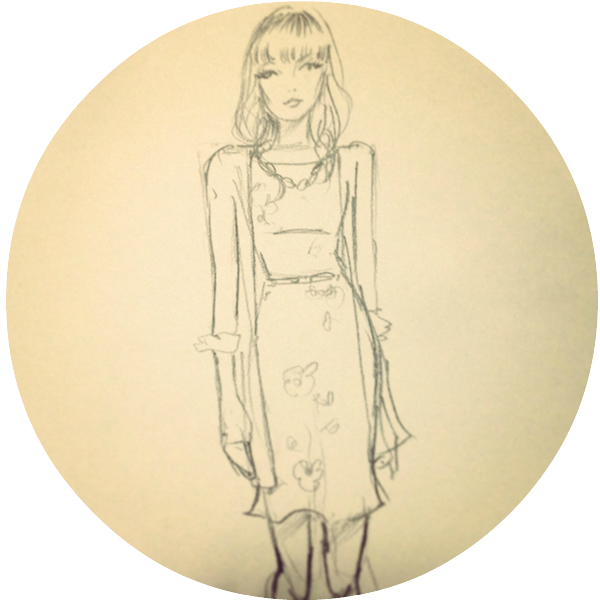 Alexis Forsyth is the founder and editor of Newcastle Sparkles.
Originally from north of the border, Alexis is a graduate of Cardiff University's Journalism School and she considers herself an 'adopted Geordie', having lived in Newcastle for over 16 years.
A former editor of the North East's longest running monthly business magazine, North East Times and quarterly family publication L'Mamita, Alexis previously worked as a staff writer for lifestyle magazines Accent and Newcastle Living, and was also a contributing editor at pan-European website Running in Heels.
Her published work encompasses everything from culture and travel through to music and celebrity interviews.
By day, Alexis is the marketing manager of the UK's largest independent art, craft and design gallery. Out of hours, she contributes to award-winning blog Brides Up North and enjoys exploring everything that Newcastle has to offer, and can usually be found Instagramming her latest foodie and cocktail pics.
Follow her daily ramblings over on Twitter @Alexis_R_F.
Want to get in touch? Email alexis@newcastlesparkles.co.uk.
---
As seen in…
Into the Blue
Ryanair's blog, Into the Blue, worked with a selection of local bloggers to compile a list of Newcastle's best brunch spots. Newcastle Sparkles profiled Blakes coffee house and kitchen on Grey Street for the feature.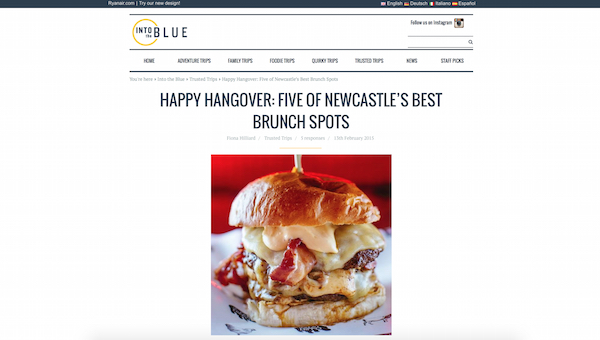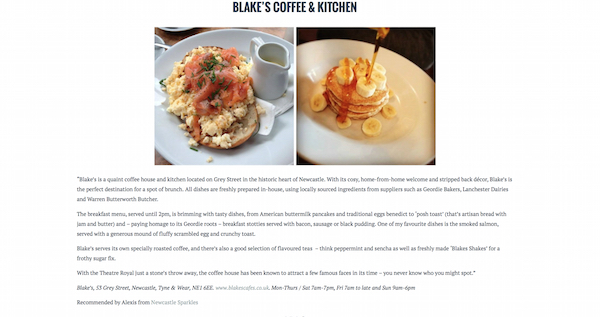 Feedspot
Newcastle Sparkles was ranked 17th out of 40 top Newcastle blogs and news websites, based on Google reputation and search ranking; influence and popularity on social media; quality and consistency of posts and Feedspot's editorial team and expert review.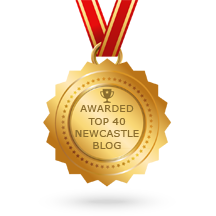 Fashion North
Fashion, beauty and lifestyle website Fashion North featured a Q&A with Newcastle Sparkles, talking about all things work experience and CV-related.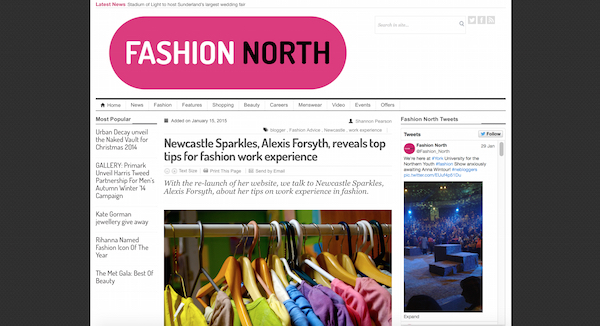 ---
Our readers
Our readers are predominantly female and aged between 25-34, with the majority based in Newcastle as well as other locations across the North of England, including Gateshead, Durham, Manchester and Leeds.
---
Social media & website stats
Twitter  2220+ followers
Instagram  1500+ followers
Facebook  250+ page likes
Bloglovin  150+ followers
Domain Authority  28
*Updated November 2018
SaveSave
SaveSave
SaveSave
SaveSave
SaveSave
SaveSave
SaveSave
SaveSave
SaveSave
SaveSave
SaveSave
SaveSave
SaveSave
SaveSave
SaveSave